Things To Know While Picking Exterior Paint Color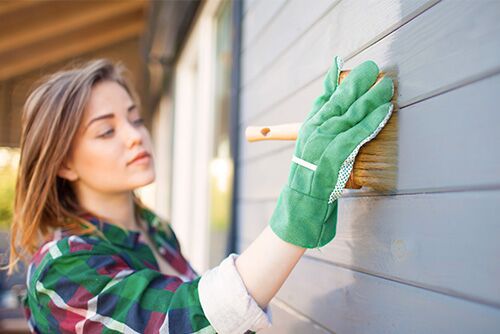 Talk about a color commitment! Unlike painting interior walls-an easily changeable decorating move-painting the exterior of your home isn't something you want to do on a whim. With the expense and time involved (not to mention the impact your color choices will have on the curb appeal of your home) you'll want that paint job to last. Fortunately, picking the best hues for your home isn't as hard as it might seem. Just remember that before you get out the paintbrush it's a good idea to take cues from:Have a look at from NoblePaintCo.com for more info on this.
The style of your house.
Certain colors have become synonymous with specific architectural styles. For instance, Victorian homes often boast vibrant, contrasting color schemes, whereas Southwestern homes are typically adorned in the colors of the desert landscape (think pinks, soft yellows, sandy taupes, and beige). An abundance of architectural details may mean you can use a variety of colors on the exterior; simpler homes look better with a more straightforward palette (pick a body color, trim highlight, and accent punch at most).
Other homes in your neighborhood.
Depending on where you live, you may be limited in what colors you can choose, particularly if you live in an historical neighborhood or an area governed by a neighborhood association. Even if there aren't any rules dictating what colors you can or can't use, you may want to survey what colors your neighbors have selected for their exteriors-for inspiration and to ensure your home won't stand out like a sore thumb.
Your home's exterior elements.
If your home boasts brick or stone, you'll want to ensure that any colors you choose for siding or trim complement the hues in the masonry. The same goes for your roof-for instance, black and gray roofs work with almost any color, but orange roof tiles pair best with earth tones. Also consider permanent landscaping-if certain flowers, trees, or shrubs are prominent, it's a good idea to contemplate how your new hues might look next to them.
Your home's size.
Remember that dark colors can make a house look smaller; light colors will make it look larger.
Once you narrow down your choices, you'll want to purchase quarts of paint and experiment with the right color combinations, just as you do before tackling paint jobs indoors. Paint swaths of each option on the back of the house, and observe them at different times of day and in different weather conditions to get an idea of how the hues change.
Still struggling with the perfect exterior color scheme? One rule of thumb: in general, paint shutters and doors with contrast in mind. So if your house is pale or medium, it will likely look best with dark shutter colors.